HALMSTAD – GRENAA OFFICIALLY OPENED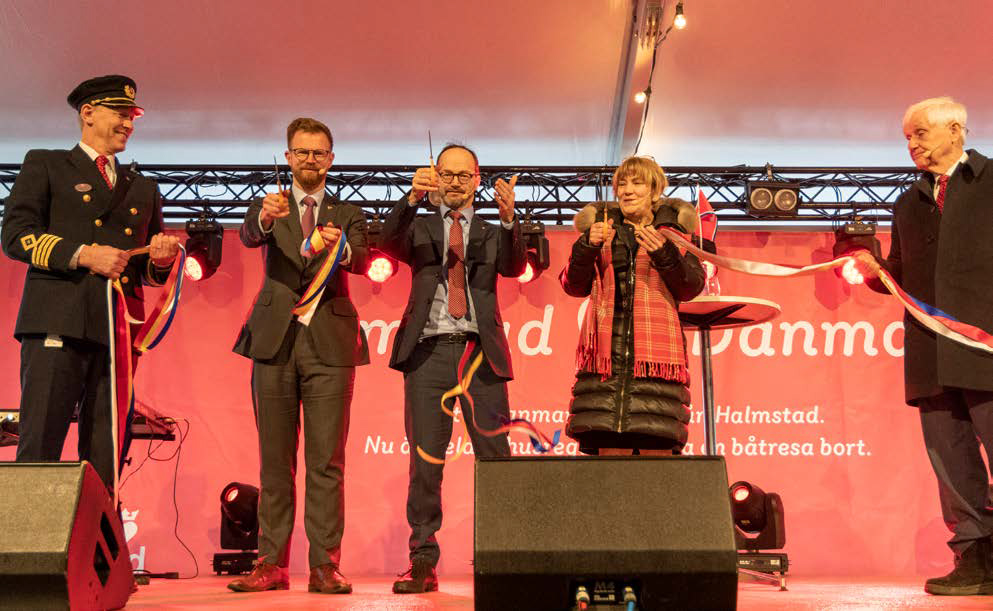 On Saturday 1 February 2020 Stena Lines new ferry route between Halmstad and Grenaa was officially opened. Thousands of people visited the opening ceremonies on both sides of the sea, including the infrastructure and transport ministers of both Sweden and Denmark.
The celebrations started already on Friday evening in Varberg whit an emotional and moving farewell. Several hundred inhabitants in Varberg waved goodbye when Stena Nautica set course for Grenaa one last time.
"It was moving to see the love and engagement from everyone. It is an end to an era, said Senior Master Jan-Eric Alcén before he set sail for Grenaa and Halmstad.
Early Saturday morning the celebrations of the new route started in Grenaa Port with hundreds of visitors, media and the Transport minister of Denmark Benny Engelbrecht attending and who also joined the journey to Halmstad.
Official inauguration ceremony in Halmstad
In Halmstad close to 8 000 people waited for Stena Nautica on the quay when she arrived at 1 pm. During the day thousands of people visited the open ferry, took part of the music and performances and had fika with both Swedish cinnamon buns and Danish pastry. The official inauguration ceremony was attended by Dan Sten Olsson, the Group and route management of Stena Line as well as the infrastructure minister of Sweden Tomas Eneroth, the governor of Halland Lena Sommestad, the Mayor of Halmstad Jonas Bergman and many others.
"With Stena Recycling and Stena Line present in Halmstad, it is now Stena Lines second home in Sweden, said Dan Sten Olsson and continued with a declaration of love to Denmark.
"We have loved Denmark for a long time, but I didn´t know the love was answered", he said with a smile.
The celebrations continued all night with music, speeches and a three-course dinner onboard Stena Nautica on her first journey on the new route between Halmstad and Grenaa.