Culture that promotes learning and is characterised by care in everything we do
Stena seeks to attract and retain committed, curious and competent employees. To make this possible, each business unit works on the basis of the Group's People Policy, which is in line with the UN's Sustainable Development Goals for Decent Work and Economic Growth, as well as Gender Equality.
Stena is committed to being a good employer with dedicated employees with the right expertise. In total, Stena employs around 17,200 people worldwide. Stena is convinced that consideration for all employees lays the foundations for sustainable and profitable long-term business activities.
POLICY
Stena has adopted a Group-wide People Policy, which serves as the overall framework for employee issues and lays the foundations for a corporate culture characterised by care within the Group. Stena's goal is to be an employer that promotes learning, creativity and care. The People Policy also states that every Stena employee must support and respect the UN's Universal Declaration of Human Rights. Each business unit has the opportunity to adapt its policy work based on its own operations and needs. The Group-wide People Policy serves as a basis from which to work.
Goals and Results
REDUCED INEQUALITIES
Active gender equality work is conducted within the Group, which has promoted both business results and a good working environment in workplaces. All of Stena's business units have the long-term goal of achieving gender-equal Boards and management teams. To achieve this, it is ensured that both gendersare represented in succession planning, in recruitment for leading positions and in the appointment of new board members. Stena Line, Stena Bulk and Stena Property have gender-equal management groups.

EXPERTISE DEVELOPMENT
In 2022, a new training portal, Stena Learning Site, was launched, which is available to all employees and offers knowledge and insights in a number of different areas.
EMPLOYEE SURVEY
Stena's annual Stena Pulse employee survey is a modern, research-based tool of which the philosophy is that good leadership and a good working environment are the basis for dedicated employees and good customer relations. This in turn generates increased growth and profitability. The tool also provides an extensive database for benchmarking against companies in different industries. The results of the employee survey are processed at Group level and each department is responsible for drawing up improvement measures and defining them in an action plan. The survey conducted in 2022 shows continued high results in line with the previous year within all areas except for eNPS, which measures employer branding and loyalty. eNPS increased significantly from 12 to 20, and Stena's increase was also significant compared with the external benchmark.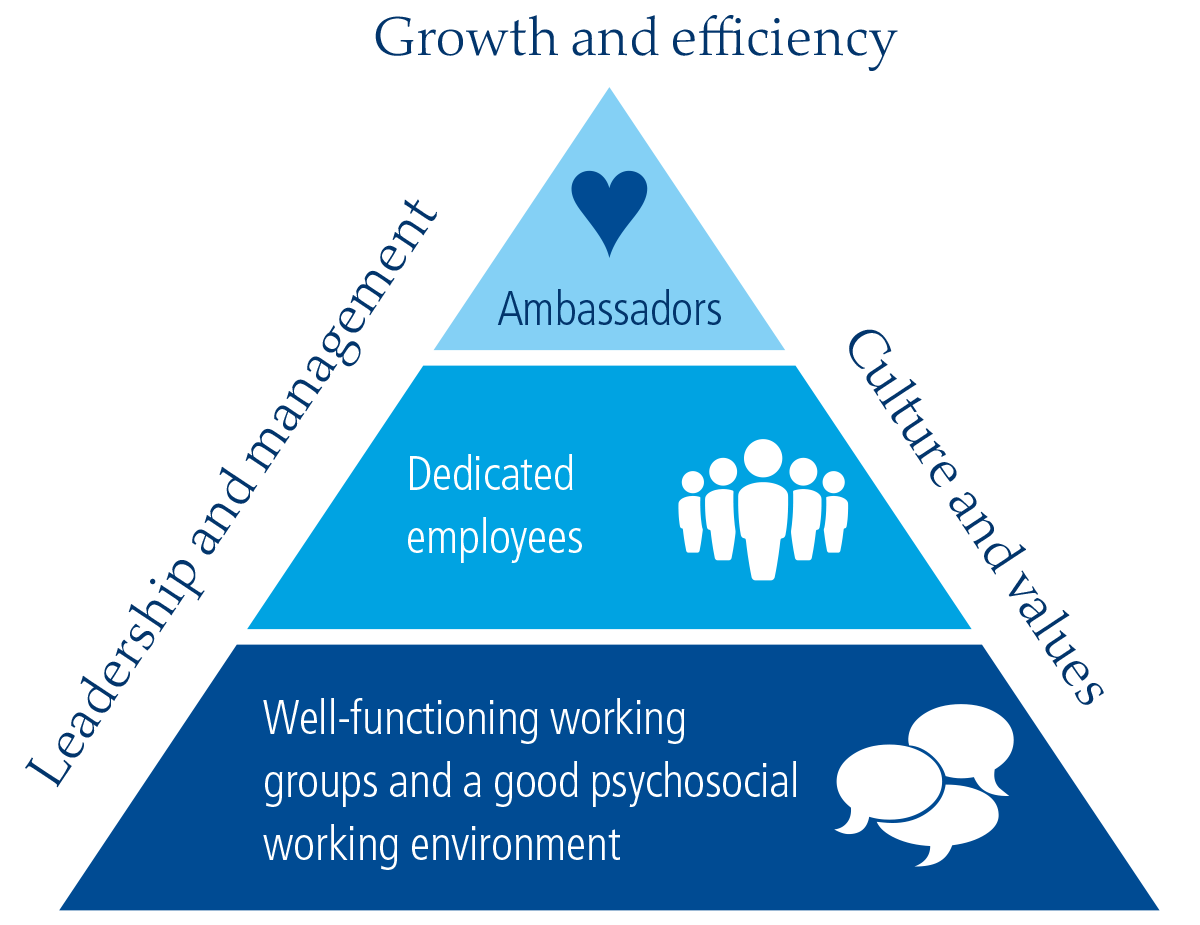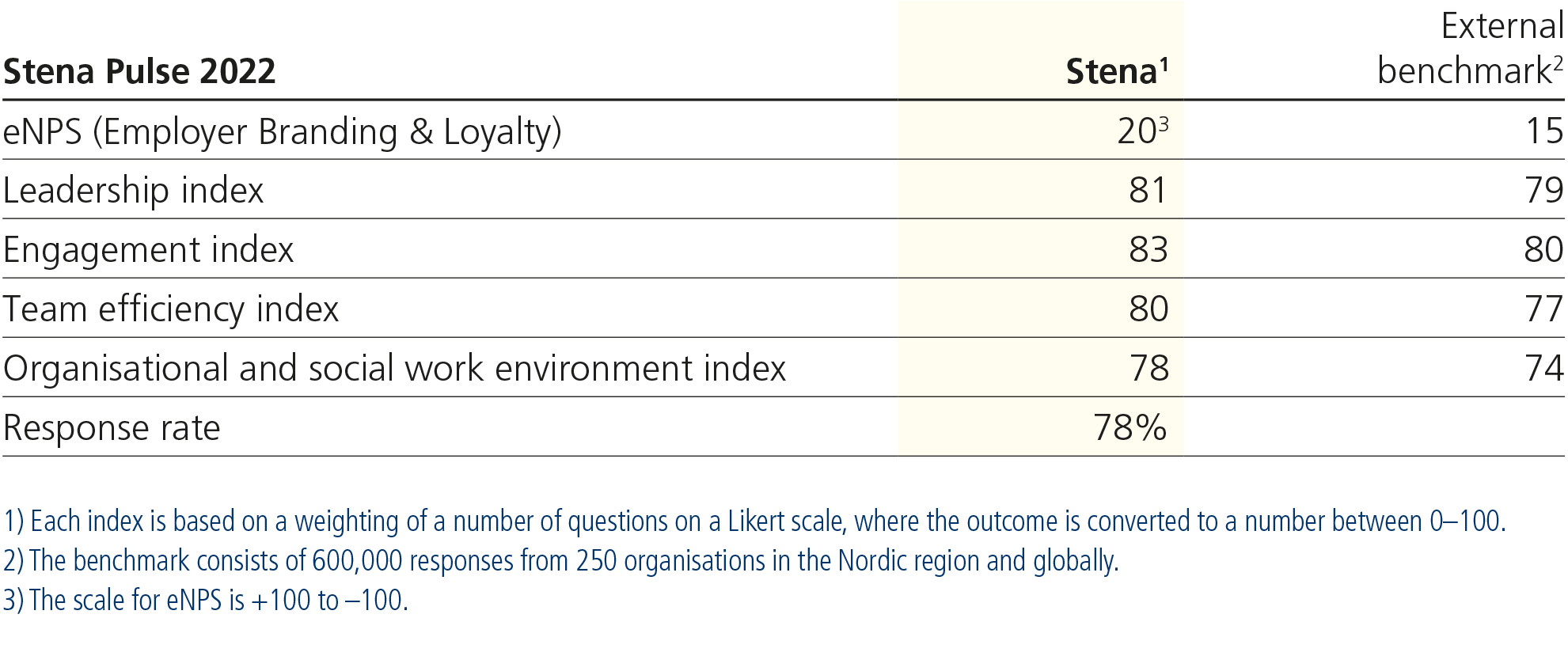 RISKS
Stena has well-established sustainability risk analysis. These are conducted by each business unit on an annual basis and reported to the central sustainability department. Below is a summary of the business unit's most significant risks in the area of People.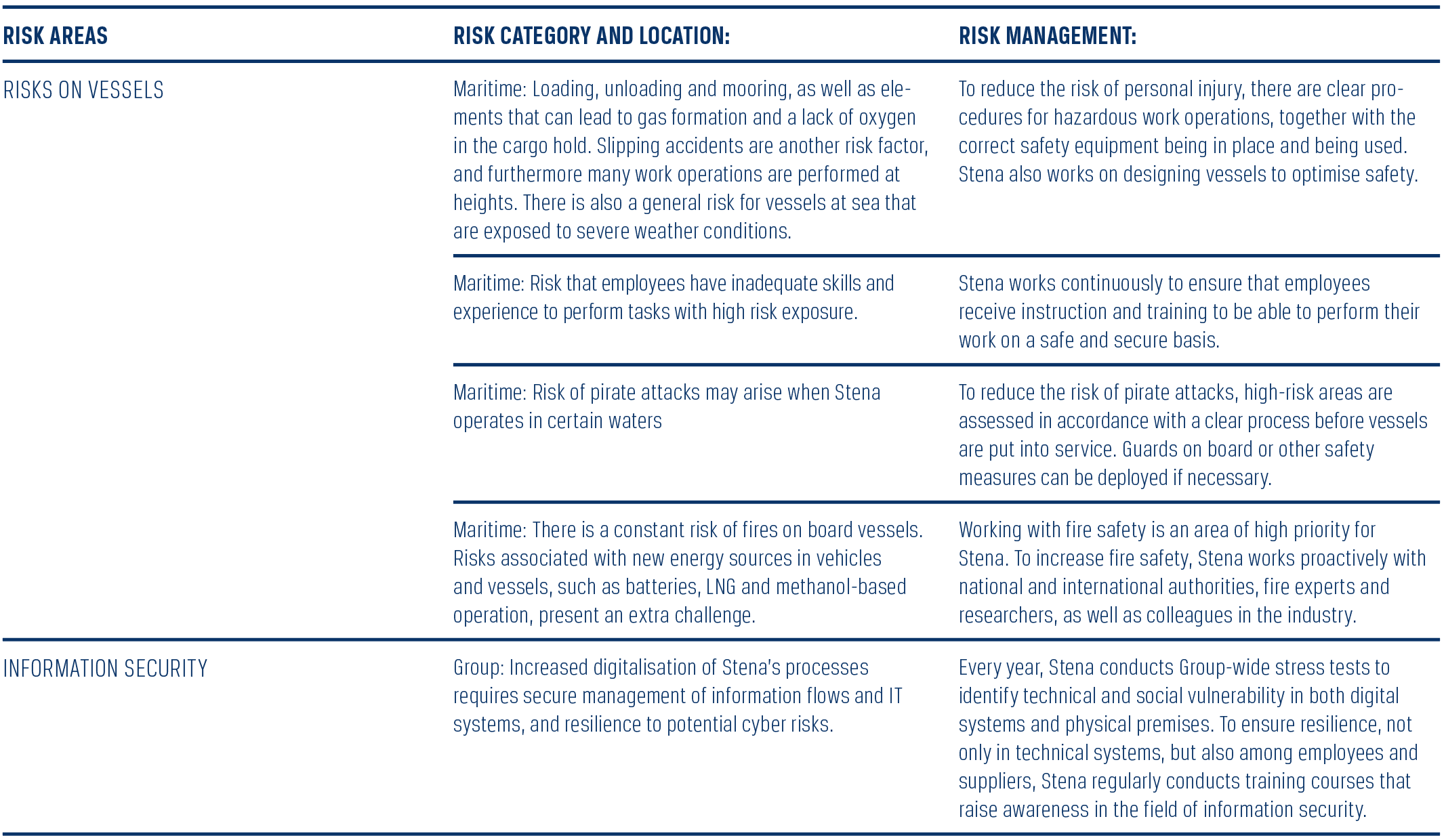 THE UN DEVELOPMENT GOALS
In the area of People, Stena influences and contributes to achieving the following goals: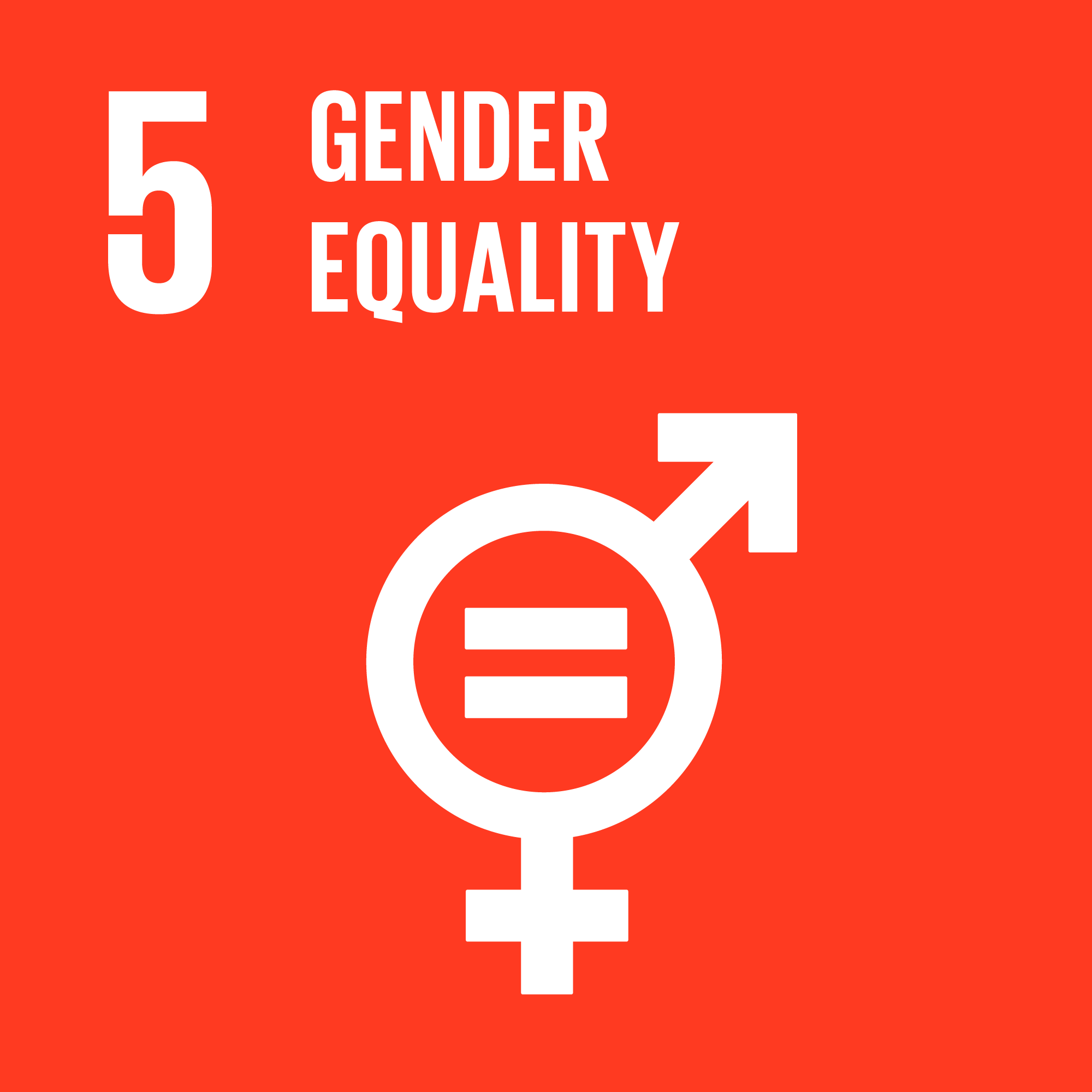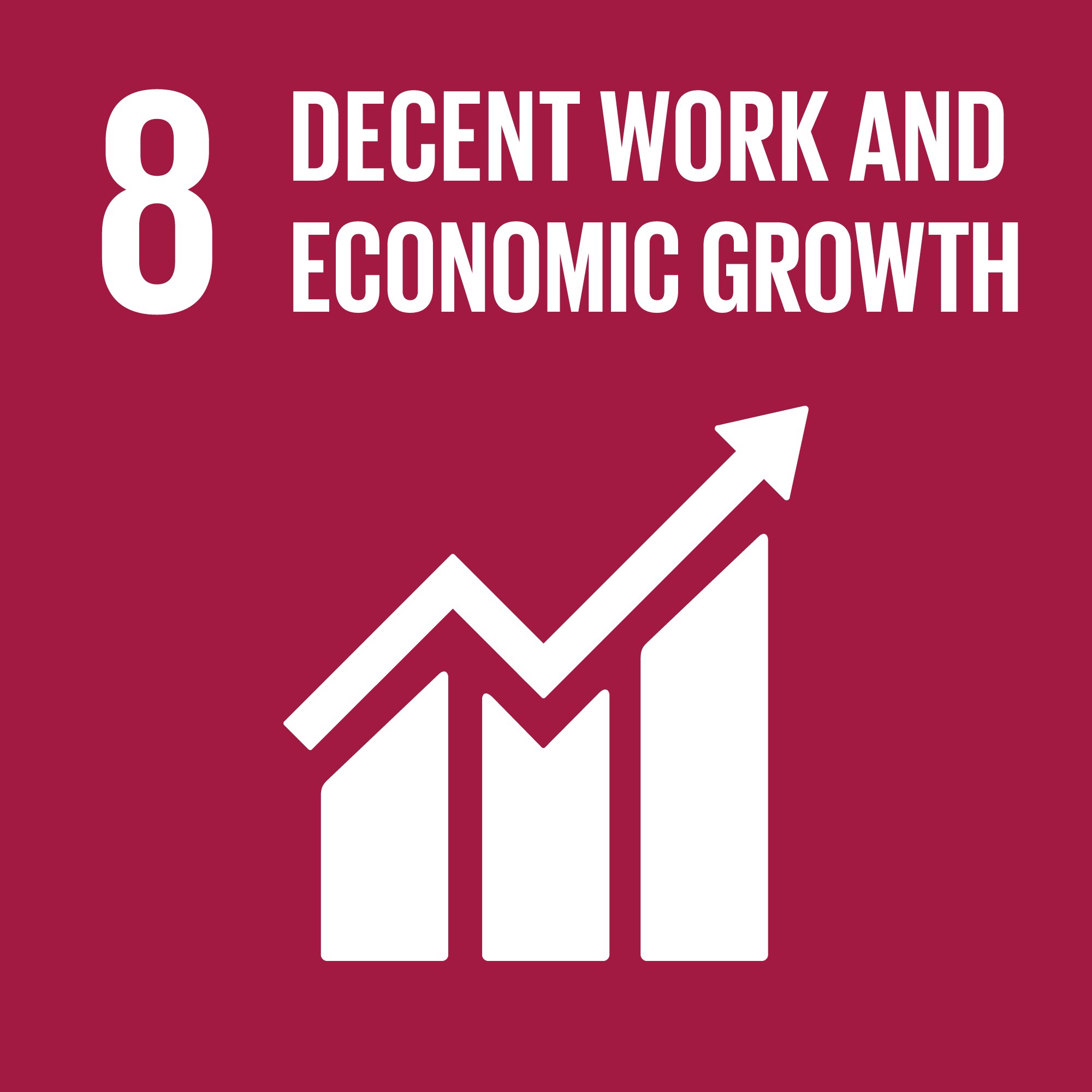 Read more about all our UN Sustainable Development Goals here