Record freight levels – major investment in the Baltic Sea
Stena Line
is one of Europe's leading ferry operators, with 40 vessels and 18 routes in northern Europe, and with 25,000 sailings per year. The company is an important part of the European logistics network and is continuously developing new, intermodal freight solutions by combining transport at sea by rail and road. With its extensive passenger services, Stena Line also plays an important role for tourism in Europe.
Summary of 2022
With continued expansion in several regions, and new vessels in operation, Stena Line noted another successful year in 2022. "Our expansion is continuing. The major challenge is the green transition, where the new E-Flexer vessels are important pieces of the puzzle in achieving our goals," comments Niclas Mårtensson, MD of Stena Line.
STRONG PERFORMANCE IMPROVEMENT
In 2022, Stena Line's revenue increased by 42 per cent compared with the previous year, to SEK 17.5 billion.
"We've had the market with us and set the right priorities. We benefit from how we've built flexibility into the business and also taken a number of measures to reduce the cost base," says Niclas Mårtensson.
"During the past year, passenger traffic gained momentum, especially in the automotive segment. We can also note a certain slowdown in the freight market. This makes it even more important for us to maintain our pricing and quality – and to meet deadlines and stay focused on safety – which are key competitive advantages for us," he continues.
DIGITALISATION INCREASES FLEXIBILITY
An important tool for Stena Line in optimising its activities is the focus on digitalisation, where technology such as Artificial Intelligence (AI) and machine learning are used to connect all parts of the business, from ports to booking systems and operations, in order to increase efficiency, reduce emissions, improve the customer experience and support employees. Customs clearance can also take place digitally.
MULTI-REGION EXPANSION
In January 2023, Stena Line introduced the second large E-Flexer ferry for traffic on the Karlskrona–Gdynia route. Stena Ebba and its sister vessel Stena Estelle, launched in August 2022, are the largest in Stena Line's E-Flexer fleet. The 240-metre-long vessels have 50 per cent more cabins and 15 per cent more cargo capacity, compared to previously delivered E-Flexer vessels in operation in the Irish Sea. Like other E-Flexers, Stena Ebba and Stena Estelle have an optimised hull design, propellers and rudders for maxi- mum efficiency, while also being adapted for alternative fuels.
Stena Line's investment in modernising the ferry route includes a new ferry terminal in Gdynia, with capacity for larger vessels and the opportunity to develop intermodal solutions through proximity to railway track. The strengthening of the connection between Sweden and Poland is an example of how Stena Line is meeting the increasing demand from customers in the southern and eastern Baltic region.

The investments in the southern Baltic Sea also made it possible to strengthen the route between Ireland and France. Stena Vision, which has been in operation on the Karlskrona–Gdynia route, will be relocated to Rosslare–Cherbourg. This brings a significant increase in capacity for this route, particularly on the passenger side.
SUSTAINABILITY IS KEY
The single most important challenge for Stena Line is how carbon emissions can be reduced. The plan includes decreasing total carbon emissions from vessels by 30 per cent by 2030. In August 2022, figures were published showing that the ferry company has so far reduced its carbon emissions by 11 per cent, calculated per tonne of freight transported over each nautical mile, and reduced the vessels' total emissions by 4 per cent, compared with before the pandemic.
The main reason is the significantly higher utilisation rate in recent years. Other specific measures are Stena Line's extensive use of renewable electricity while the vessels are manoeuvring and are moored in port. Pilot projects, such as giving electric trucks priority access to Stena Line's ferries in Göteborg and using recycled methanol from the steel industry as ship fuel, are other examples.
"The major challenge for Stena Line, and for the entire transport sector, is without doubt the green transition. With projects such as the methanol-powered ferry between Göteborg and Kiel, the state-of-the-art E-Flexer ferries, and our ambitious electrification projects, we're working to be at the forefront of this development," says Niclas Mårtensson.
Within sustainability, Stena Line also strives to achieve gender equality, with the aim of increasing the proportion of female managers. After the addition of a new commercial head, as from mid-2022 the Stena Line management team consists of as many women as men.
TRANSPORTED REFUGEES FROM THE WAR IN UKRAINE
The effects of the war in Ukraine on Stena Line's operations have so far been limited. According to Niclas Mårtensson, continued war and the unstable economic situation are likely to have a major impact on the industry.
"Our contribution to helping Ukraine is that we've offered free transport of war refugees from Poland to Sweden, a total of around 30,000 people so far. We've also provided free transport of aid shipments from all over Europe to Ukraine," he explains.
TWO ACQUISITIONS, CONTRACT FOR 2100 AND 60 YEARS ANNIVERSAY
In 2022, Stena Line completed two important acquisitions. One concerns a large area of land adjacent to the British port of Holyhead. The aim is to enlarge the port for future expansion of ferry traffic between Wales and Ireland. Holyhead is the second largest RoRo port in the UK.
The second acquisition concerned Voigt Travel Holding, the leading Dutch specialist for winter travel to the Nordic countries. The acquisition of Voigt Travel, together with its two sister companies, Scandinavian Wintersports and Ruka Safaris, strengthens the offering in the travel segment in the Dutch market.
At the same time, for the Irish Sea, Stena Line secured a long-term presence in Birkenhead/Liverpool through a contract that allows the company to continue to run and develop activities in the region until 2100. Stena Line has been operating the Liverpool–Belfast route since 2011, and this long-term contract opens up new opportunities for future expansion.
In 2022, Stena Line celebrated its 60th anniversary. Activities have evolved from the first "floating border shops" to Denmark, via cruise-like entertainment trips during the glory days of tax-free shopping in the 1980s and 1990s, to today's efficient, high-frequency, freight-heavy and passenger-adapted ferry transport – as the result of a constant change process.
E-FLEXERS – FERRIES OF THE FUTURE
Stena is leading the development of future passenger and freight ferries: E-flexers. With optimised hulls, propellers and rudders, they are around 30 per cent more energy-efficient than today's conventional ferries. They can be prepared for operation on various different fuels, such as methanol, Liquefied Natural Gas (LNG) and ammonia, and can be converted to electric propulsion. They have a higher freight capacity, are easier to load and can carry more passengers. The design also provides an improved passenger experience. Stena RoRo currently has 12 confirmed orders for E-Flexer vessels. Nine of the vessels have been delivered so far, five of which to Stena Line. The latest is Stena Ebba, launched in January 2023 for traffic between Karlskrona and Gdynia
SUSTAINABILITY PERFORMANCE
Environment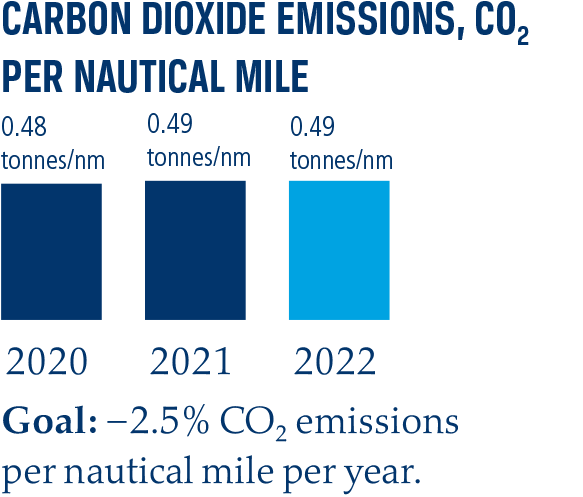 People
Share of women in the management team
50%
Goal: Gender equality in the management team
Society
SHARE OF ADDRESSED PURCHASE VOLUME THAT HAS SIGNED THE SUPPLIER CODE OF
88%
Equivalent to more than 400 suppliers.
Goal: 90% of addressed purchase volume
Addressed volume is approximately 77% of total purchases.