Record freight levels – major investment in the Baltic Sea
Stena Line
is one of the world'
s leading
ferry operators, with 39 vessels serving 18 routes in Northern Europe. Stena Line also owns five ports and controls a further ten. The company is an important part of the European logistics network, offering intermodal freight solutions that combine rail, road and marine transport. Stena Line's passenger business plays an important role for tourism in Europe by offering affordable and flexible ferry transport.
Summary of 2021
By streamlining and increasing the focus on freight operations, Stena Line managed to return to a profit in 2021 and also strengthened its future competitiveness. The ferry company is now investing in expanded operations in the Baltic Sea, among other things, and has increased the pace of the transformation to fossil-free shipping.
GREATER FLEXIBILITY
In 2021, Stena Line's revenue increased by over 20 per cent to SEK 12.7 billion, compared to the previous year. The business was realigned towards freight transport. During the pandemic, Stena Line had the opportunity to prove its important role in Europe's infrastructure, where the company played an important role in the transport of food and healthcare products. Today, around 65 per cent of Stena Line's sales consist of freight.
"Since we were so quick to adapt, we managed to reverse the negative trend during the past year. The decisions on a reduced cost base and increased flexibility made in 2020 had a positive effect during the year and also contribute to making us less vulnerable. We've also taken market shares in all regions in all segments," comments Niclas Mårtensson, MD of Stena Line.
"Apart from increased focus on freight, it's also a matter of moving away from cruises solely for the leisure sector and expanding our operations where we're already strong, i.e. in the Irish Sea, the North Sea and the Baltic Sea," he continues.
CONTINUED DIGITALISATION
Another focus area for Stena Line is increased digitalisation of operations, whereby technologies such as Artificial Intelligence (AI) and machine learning are used to interconnect all parts of the business, from ports to booking systems and operations, in order to optimise efficiency, reduce emissions and improve the customer experience. Customs clearance can also take place digitally.
"Digitalisation means that we can scale up operations and increase revenues – without increasing costs by adding employees," says Niclas Mårtensson.
PANDEMIC AND BREXIT
As the Covid restrictions were eased during the year, passenger traffic started up again. Stena Line effectively ensured safety on board, with clear guidelines and procedures for crews and passengers.
In parallel, Stena Line benefited from a sharp increase in passenger traffic between England/Scotland and Belfast as a consequence of Brexit – as this traffic takes place within the UK's borders. Brexit has also affected freight transport in the Irish Sea and brought challenges for free trade in Europe, also affecting Stena Line's operations. As a result, British ports are often avoided due to the increased complexity of customs clearance, with freight traffic instead passing directly from Ireland to France.
CLIMATE FOCUS
The single most important issue for Stena Line is how to minimise carbon emissions, in the face of increased expectations and external requirements. In 2021, Stena Line presented a Carbon Roadmap for 2030, under which the company will accelerate its transformation to fossil-free shipping and the company's total carbon emissions will be reduced by 30 per cent up to 2030.
Stena Line focuses on four key areas in order to achieve its goals. These include electrification both offshore and onshore, operation based on alternative fuels such as hydrogen, fuel cells and methanol, fleet modernisation and AI assistance on board to optimise routes.
"Our ambition is to lead the development towards fossil-free shipping and sustainable sea transport. This means that in the long term we also need to break the dependence on fossil fuels and minimise our total emissions – and not only be more efficient per sailing," says Niclas Mårtensson.
One challenge is the current uncertainty about the optimal fuel and technology choices for future fossil-free ship operation. Since the vessels are estimated to last for at least 40 years, there is also a significant lock-in effect. It will therefore be important to work with both existing and new vessels in order to achieve the goals. One advantage for Stena Line is that the company operates short-route services, which makes it easier to plan and thereby also work to reduce its carbon emissions.
EXPANSION OF BALTIC SEA OPERATIONS
After previously strengthening its position in both the Irish Sea and the North Sea, Stena Line continues to expand in the Baltic Sea by increasing passenger and freight capacity on several routes. To meet the increasing demand for freight transport in the region, modern new ferries are being deployed in two of the routes.
Two of the ferries are of the E-flexer type and are up to 30 per cent more fuel efficient than traditional ferries, thanks to the optimised design. They are also prepared for conversion to alternative fuels, such as LNG (Liquefied Natural Gas), methanol and battery operation.
In 2022, a further two modernised ferries will be added to the Baltic Sea traffic, on the Karlskrona–Gdynia route. Expansion offshore also brings onshore investments. In Nynäshamn, Stena Line has moved to a new port and in Gdynia to a modern new terminal.
Stena Line is also entering the Finnish market with a new route from Nynäshamn to Hangö in Finland, with daily departures from both ports.
"We're investing in the new route to meet the increasing demand from our freight customers for transport across the Baltic Sea and beyond. By expanding our new network to Finland, we're expanding and improving the most extensive ferry route network in northern Europe. In total, we're increasing capacity in the Baltic Sea by just over 30 per cent," says Niclas Mårtensson.
PORT RELOCATION IN GÖTEBORG – NEW PORT IN ENGLAND
In 2021, Stena Line initiated negotiations with the Gothenburg Port Authority with the aim of enabling relocation from central Göteborg to the outer port as from 2027. A new ferry terminal will optimise Stena Line's conditions for growth and implementation of future investments. The aim is that the new port will offer a well-­developed infrastructure for hybrid electric-­powered vessels. It will also give opportunities to move heavy traffic out of the city, to the benefit of the City of Göteborg's urban development plans and sustainable ­societal development.
During the year, Stena Line also signed an agreement with Associated British Ports in the UK to jointly develop a new port in Immingham. The reason is that, as freight volumes continue to increase, the shipping company needs to increase terminal capacity. The new terminal, which will be in operation by 2025, will make it possible to deploy larger vessels in the route between Rotterdam and Immingham.
SUSTAINABILITY PERFORMANCE
In the environmental area, energy is at the top of the agenda, with focus on more efficient fuel consumption, fossil-free fuels and electrification. Stena Line failed to meet its target for reduction of carbon emissions in 2021. Instead, the company's emissions per nautical mile increased slightly compared with 2020, due to more departures and larger vessels with higher fuel consumption compared with the previous year.
For Stena Line, consideration for the planet's resources is also a priority area. The key ratio for material recycling shows a stable level during the year, although the target of an annual increase in the proportion of recycled material was not achieved.
Stena Line also focuses on gender equality and equal opportunities for everyone, with the aim of increasing the proportion of female managers. However, the results for the year show a reduction in the proportion of female managers, despite efforts to increase gender equality and achieve the company's goals.
Environment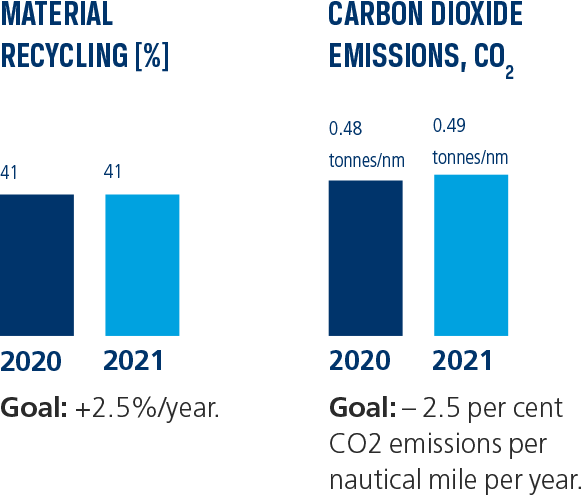 People
Proportion of female managers in 2021
17%
Goal: At least 30 per cent female managers by the end of 2022