Improved results – work for the entire fleet
Stena Drilling is one of the world's leading independent drilling contractors. The company is also a pioneer within innovation and technical development in the offshore industry, after several successful newbuilding and conversion projects. Today, the fleet comprises four drillships and two semi-submersible drilling rigs, operating in a global market.
Summary of 2022
A slowdown to all drilling activities during the pandemic was followed by a sharp increase in demand in 2022. This enabled Stena Drilling to improve its results after a few tough years, while securing important work for 2022 and 2023.
After challenging years for the oil and gas industry, first due to excess production of oil and then an abrupt decline during the pandemic, the market took a significant step upwards in 2022 and Stena Drilling succeeded in winning several profitable new contracts. The supply of drilling units is at historically low levels, while there is structurally driven high demand after many years of underinvestment in the oil and gas sector.
"I'm incredibly proud of how we managed to maintain the high quality of our fleet and services during the tough times, while several of our competitors went bankrupt. This meant we were ready and able to meet the increased demand," says Erik Ronsberg, MD, Stena Drilling.
SAFETY AS A KEY COMPETITIVE ADVANTAGE
Stena Drilling is known in the industry as a safety leader. This is a competitive advantage in relation to our customers, who give safety high priority.
"Long-term relationships based on recurring customers are extremely important to us, and our safety record means that we are ranked highly by oil companies. Safety and performance are also deemed to go hand in hand," says Erik Ronsberg.
As a consequence of the strict safety procedures followed by Stena Drilling's employees, and a sound corporate cuture, the company is among the best in the industry when it comes to safety.
"We've proved that we're big enough to win large contracts, but still small enough to care. The fact that we are an independent company with strong values is definitely appreciated by our customers," he continues.
ASSIGNMENTS FOR ALL DRILLING UNITS
Stena Drilling's four drillships – Stena Carron, Stena DrillMAX, Stena Forth and Stena IceMAX – as well as the drilling rigs Stena Don and Stena Spey, were all contracted for drilling assignments by large energy companies such as ExxonMobil, Chevron, Shell, Energean and BP in 2022 and 2023.
At the same time, a continued interest in phasing out old, unprofitable oil fields was noted.
"We predict more decommissioning work in the future, as use of fossil fuels is reduced and renewable power sources are developed further. There are also legal aspects that speed up this development," says Erik Ronsberg.
"In parallel with focusing on our day-to-day operations, we are continuously evaluating future opportunities for our fleet, where we can make the best use of our technical expertise, passionate employees and knowledge of the world's oceans.
STENA EVOLUTION SETTING NEW INDUSTRY STANDARDS
During the year, Stena Drilling prepared for the newest addition to its fleet: Stena Evolution. This technologically advanced seventh generation drillship is an example of Stena Drilling's continued commitment to leading the way in deep-water drilling. The vessel, which is being developed together with Samsung Shipyards, is planned to be commissioned at the beginning of 2024.
"Stena Evolution will be a fantastic addition to our fleet and will offer added value to potential customers in the form of a combination of new technology that improves performance and energy savings," says Erik Ronsberg.
FIRST TO ACHIEVE ISO 50001 CERTIFICATION
To increase efficiency and reduce vessels' energy consumption and emissions, Stena Drilling has installed smart energy and emission meters. These enable employees to measure and reduce energy consumption in real time. The energy-saving measures led to Stena Drilling becoming one of the world's first drilling contractors to achieve ISO 50001 certification at the beginning of the year. Stena Drilling was also one of the first in the industry to achieve ISO 14001 certification for its entire fleet.
"This is a testament to our environmental commitment and our ambition to achieve our sustainability goals," says Erik Ronsberg.
Stena Drilling's efforts to continuously assess opportunities to reduce environmental impacts are not only important to comply with new statutory requirements, but also to meet increased demands from customers, who want to work with companies that can demonstrate a sustainability plan. These efforts are also important when it comes to attracting new talent to the company, to work in an industry that many young people consider to be a sunset industry.
"We need to be able to prove that we support the energy transition, that we are embracing new technology and that we are innovative. Finally, we need to be able to show that we offer a good, rewarding and safe workplace," says Erik Ronsberg
SUSTAINABILITY PERFORMANCE
Environment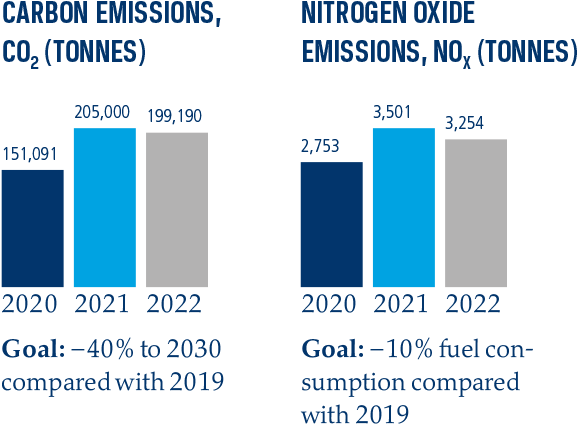 Society
DEVELOP AND PROMOTE LOCAL PERSONNEL
33%
Local Guyanan employees
Goal: >30%