All rigs on contracts –
new investments to future-proof ­operations
Stena Drilling is one of the world's leading independent drilling contractors. The company is also a pioneer within innovation and technical development in the offshore industry, after several successful newbuilding and conversion projects. Today, the fleet comprises four drillships and two semi-submersible drilling rigs, operating in a global market.
Summary of 2021
Stena Drilling's strategy to keep all rigs in top condition when the pandemic hit the offshore industry in 2020 proved to pay off. The company also continued to invest in new technology to improve energy efficiency and safety.
When the pandemic hit in March 2020, people in all industries were affected – but offshore crews faced particular challenges due to their work environments, where social distancing is nearly impossible. Meanwhile, oil prices dropped dramatically, which caused oil and gas companies to postpone new operations overnight. Almost two years later, the offshore industry is still affected, but production was increased during 2021 as the recovery of world markets resulted in increased demand for energy.
"2020 was incredibly tough and we had to do everything we could to protect the business; cutting costs and laying off staff. But we managed to keep the rigs that lost their contracts hot-stacked, while some of our competitors were forced to go through bankruptcy proceedings," says Erik Ronsberg, MD of Stena Drilling.
"By keeping the rigs ready to reactivate, we managed to sign new contracts for all our rigs as soon as the market turned, and we were also able to re-employ people. Repeat business is extremely important to us and our ability to offer our services whenever our customers need us has strengthened our relationships with them," he continues.
several assignments for ExxonMobil
ExxonMobil is one of Stena Drilling's long-term customers. During the year, two of Stena's drillships were on assignment for the energy company off the coast in Guyana, while one operated off Cyprus. During the year, Stena Forth also operated off Israel, decommissioning older oil wells. Meanwhile, Stena Spey was assigned for similar decommissioning operations off the south coast of Ireland.
"We foresee more decommissioning work in the future as old, unproductive oil fields are shut down," says Erik Ronsberg.
Investing in the future
Stena Drilling positions itself to be the most digitally and efficient drilling contractor globally. During the year, the company revealed several partnerships aimed to contribute to strengthening its digital evolution. One of these, with blockchain company Smart Chain Services, focuses on developing smart contract solutions for the energy sector. Another, with Intebloc – a specialist digital lifting solutions provider – aims at improving the safety and productivity of offshore lifting operations.
During the year, Stena Drilling also entered an option agreement with Samsung Heavy Industries to acquire a drillship. This gives Stena Drilling the opportunity to offer the market a state-of-the-art drilling service with a lower carbon footprint.
"Our plan is to fit the drillship with hybrid technologies, including the use of batteries," says Erik Ronsberg.
"While providing the best possible services and focusing on our day-to-day business, we're also continuously evaluating future opportunities for our fleet; making the best possible use of our technological competence, passionate people and knowledge of the sea. This could be areas that include renewables like wind or wave power, or carbon capture and storage," he continues.
focus on energy efficiency and safety
Stena Drilling is one of the world's first drilling contractors to gain ISO 50001 energy management certification. In order to increase efficiency and reduce vessels' fuel consumption and emissions, Stena Drilling has developed smart energy and emission meters, so that employees can monitor and reduce energy consumption in real time.
Stena Drilling is also known as a leader in the industry when it comes to safety. This is a competitive advantage in relation to oil companies, for which safety is a top priority.
Focus on employees and local communities
During the year, Stena Drilling provided skills development and new career opportunities for their employees. The company also launched a mental health portal for all staff.
Stena Drilling seeks to have a positive impact in all the communities where they operate by, for example, assisting countries such as Guyana to develop their own energy resources. The company is also securing opportunities for local populations to benefit from Stena Drilling being part of their community and providing employment, as well as support for employees' families in areas of healthcare and education – thereby contributing to better living conditions.
SUSTAINABILITY PERFORMANCE
In the environmental area, Stena Drilling focuses on reducing its carbon dioxide and nitrogen oxide emissions by reducing its fuel consumption. The target for 2021 was to reduce fuel consumption by 5 per cent, with 2019 as the base year. The company's ISO 50001 certification, combined with daily monitoring of fuel consumption, has contributed to increased focus and led to good results, with a 6 per cent reduction of carbon emissions from 2019 levels.
Stena Drilling conducted accredited anti-corruption training for selected key personnel during the year.
Environment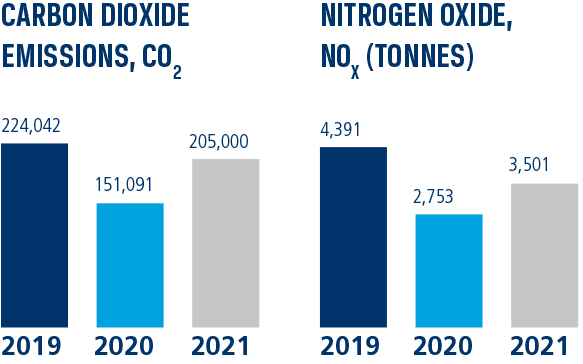 People
99%
have completed anti-corruption training*
* The target group for the training is key personnel and consisted of 174 employees.