Stable operations in an uncertain world
Stena Property is one of Sweden's largest privately-owned property companies. The company owns and manages around 26,300 residential properties and 3,800 commercial premises in the metropolitan regions of Stockholm, Göteborg and Malmö. Stena Property develops city districts and manages them with care. Sustainability issues are high on the agenda, and relationship management is used to cooperate with residents and other stakeholders on creating attractive areas that people can enjoy and settle in permanently. A small part of the commercial portfolio is located in Poland and the USA. The Polish property portfolio was increased in 2022 through the acquisition of two highly environmentally-classified office projects in Wroclaw and Krakow. The occupancy rate was higher than ever before during the year – for the portfolio in Sweden it amounted to 98 per cent, and for the portfolio abroad to 89 per cent. In parallel, 140 tenant-owned apartments were sold.
Summary of 2022
With a strong focus on neighbourhood development, Stena Property invests in a successful mix of rental apartments, tenant-owned apartments and commercial premises. Around 800 new homes were completed in 2022, as were retirement homes and preschools in both Göteborg and Stockholm, where a school was also opened.
SUSTAINABLE URBAN DEVELOPMENT
In 2022, Stena Property completed around 800 new tenant-owned and rental apartments in the area of Vega in Haninge outside Stockholm, and in western Göteborg. Stena Property acquired a commercial area in the suburb of Huddinge, Stockholm, for the future development of residential properties.
For many years, Stena Property has worked according to the principle of developing neighbourhoods to values such as diversity, consideration and social sustainability. In practice, this means that a long-term approach and care for health, the environment and safety guide all decisions and are integrated into the business objectives. Today, a significant proportion of Stena Property's residential properties are located in "Million Programme" areas, including Fisksätra in Nacka, Bellevuegården in Malmö and Tynnered in Göteborg.
In Tynnered, a preschool and a nursing home were completed during the year. In Fisksätra, long-term agreements were signed to build a new preschool and nursing home. Extensive investments have been made in both of these areas to create safe and attractive neighbourhoods. Stena Property won an award for its investments in Fisksätra, where the school has been refurbished and renovation of the centre has started.
"We're also continuously upgrading parts of the portfolio. During the year, we had a record number of such renovations – a total of 1,250 homes," says Cecilia Fasth, Stena Property's MD.
INVESTMENT IN CO-LIVING AND HOLIDAY WORK
Stena Property invests in various types of innovative solutions for residents. One example is co-living, i.e. a cooperative home where several tenants share a home.
"As part of our efforts to lower the thresholds in the housing market, we have joined forces with Stockholm City Mission to initiate a project for co-living accommodation in the Vega area of Haninge for people who lack any footing in the ordinary housing market," says Cecilia Fasth.
Another initiative of which Stena Property is proud and that is part of the urban development strategy is the annual investment in holiday work for young people. In 2022, 450 holiday positions were created, partly in Stena Property's own operations, and partly through collaboration with Volvo Cars, which together with Stena Property and the municipal property company Framtiden is developing the Tynnered area.
BIGGEST AI PROJECT IN THE INDUSTRY
Stena Property also has high ambitions in the climate and environmental area. The goal is to reduce the climate footprint by 55 per cent from 2018 to 2030, while achieving the same return. This means that during that period Stena Property must reduce its carbon emissions from operations by at least 55 per cent. As part of this work, Stena Property is carrying out the largest AI project in the industry to date, where artificial intelligence is used to control energy consumption, especially in terms of heating systems.
"Everyone benefits from this. This will be better for the customer, who experiences increased comfort, while at the same time we can use less heating and thereby reduce our energy consumption. This makes us less sensitive to volatile energy prices and it's also good for the environment. This is also a technology that can be used in many different areas, which is exciting for the future. The goal is 'self-operating' properties," comments Cecilia Fasth.
During the year, Stena Property completed Sweden's first climate-neutral renovation of a property, with the refurbishment of the old Trikå factory in Malmö. The goal was to retain the character and soul of the building and thanks to a well-considered renovation process, an old commercial property has been transformed into a modern, sustainable workplace with smart technology and flexible solutions. The first stage has now been completed and all premises have been rented out.
TARGET TO PRODUCE 1,000 HOMES PER YEAR
Stena Property's goal is to produce at least 1,000 sustainable homes every year.
According to Cecilia Fasth, the strategic plan remains in place, even though the number of new homes started in 2022 was much lower, due to contractors' price increases.
"Rising prices, interest rates and electricity costs are challenging for our business. We are therefore focusing on becoming self-sufficient in electricity. Another challenge is that it can be more difficult to sell tenant-owned apartments when loans become more expensive. It is positive that demand for rental apartments remains high in the metropolitan regions where we operate, and this is the largest element of our property management. We have also hedged financing and interest expenses for the coming years."
"By continuing to invest in creating pleasant and secure neighbourhoods with different forms of housing, as well as innovative solutions, we're also safeguarding the future of our business. We've shown that we can make a difference in the areas where we are becoming established," she says
REAL ESTATE COMPANY OF THE YEAR – RESIDENTIAL PROPERTIES
Stena Property has been named as the property company of the year – residential properties. The prize was presented at the annual Property Gala, which is organized by the Local Guide and World in Property. The motivation stated, among other things, that StenaProperty "through its more than 20-year sustainability journey, opened up what the entire industry is now characterised by". Stena was praised for its way of linking sustainability with new technology in order to halve its climate impact by 2030, and for its relationship management. "In many ways, Stena Property is a lighthouse that guides the way forward," the jury wrote.
SUSTAINABILITY PERFORMANCE
People
Diversity
23%
Goal: At least 26% by 2024
The share of employees with an international background should reflect society
Environment
Total carbon footprint 2021, CO2e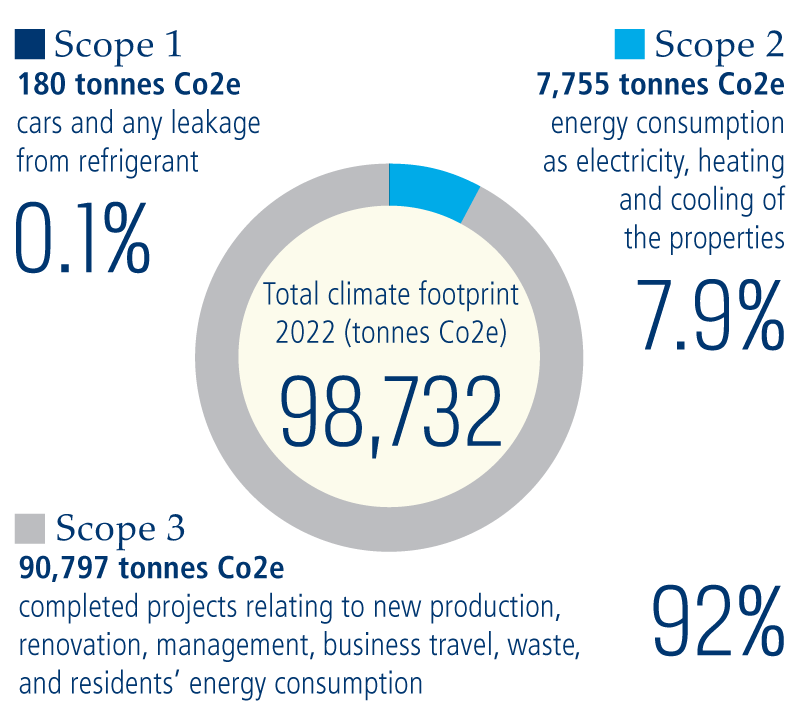 Society
Security in residential areas
78.6%
Goal: At least 82% in Aktiv Bo by 2024
Peace of mind is measured through Aktiv Bo, a customer survey. The survey is run every second year.
Owned and managed portfolio