Celebrating 40 years of forward-looking
urban development projects
Stena Property is one of Sweden's largest privately-owned property companies. It owns and manages approximately 2.4 million square metres in around 25,800 residential properties, and 3,700 commercial premises in the metropolitan regions of Stockholm, Göteborg and Malmö. The portfolio also consists of commercial properties in other countries. In 2021 and early 2022, Stena Property in Poland was established through three acquisitions of modern commercial properties in the country's three largest cities. The occupancy rate for the holdings in Sweden was 97 per cent in 2021, while for holdings abroad it was 87 per cent.
Summary of 2021
From the outset, 40 years ago, Stena Property has grown rapidly and also developed from a management company into a leading urban developer that invests in people, neighbourhoods and communities. In 2021, the company invested just over SEK 3 billion, contributed thousands of new homes and created more than 500 holiday jobs for young people.
At the Fastighetsgala in February 2021, Stena Property was named Housing Company of the Year for reasons such as demonstrating that sustainability and business acumen go hand in hand. At the beginning of 2022, Stena Property was also named Career Company of the Year.
"Our long-term focus on diversity, consideration and social sustainability is reflected in the award. The award gives us even more power and energy, and contributes to the fantastic commitment we see every day," says Marie Bergsgård, HR Manager of Stena Property.
The pandemic has put the focus on the home
One of the trends with the greatest impact on Stena Property in 2021 was the increased interest in housing as a consequence of the pandemic and people spending more time at home.
"There's been a great demand for new homes, we've sold more owner-occupied flats and customers have become keener to pay their rent. Many tenants also want to move to homes with more space. We've also noticed that more people are demanding better broadband and smart solutions, such as being able to book the laundry room electronically. There's also increased interest in caring for the local area and making it pleasant and attractive. For us, these are all positive trends," says Cecilia Fasth, MD of Stena Property.
Sustainable growth
Stena Property continued to grow strongly in 2021, with results in line with expectations and with investments in several projects in Stockholm, Göteborg and Malmö. These include various types of innovative solutions for new types of housing, such as co-living, i.e. cooperative housing where several tenants share a residential unit. During the year, Stena Property also won ground instructions in both Uppsala and Mölndal. In total, Stena Property had 1,550 residential properties in production in 2021, while 1,250 residential properties were renovated.
"We are continuing our strong growth and have stepped up the growth target to 1,100 new homes per year. In parallel, we're selling more and more owner-­occupied flats: 283 residential units in total during the year, which meant that we exceeded the target of 215. By continuing to invest in creating pleasant and secure neighbourhoods with different forms of housing, as well as innovative solutions, we're also safeguarding the future of our business," comments Cecilia Fasth.
Careful urban development
Stena Property is a long-term property owner that owns and develops its neighbourhoods for future generations and works to strengthen the cities where the company operates. In practice, this means that a long-term approach and care for health, the environment and safety guide all decisions and are integrated into the business objectives.
In the early 1990s, Stena Property made a unique decision by investing in residential units in the "Million Programme" area of Lindängen in Malmö. This was where "Relationship Management" began to be developed as a way of working that today permeates the entire company and is the basis for strong leadership within social sustainability. Dialogue, local presence, collaboration and long-term ownership in order to make people feel secure and content where they live and work are important components. Today, a significant proportion of Stena Property's residential properties are located in "Million Programme" areas, including Fisksätra in Nacka, Bellevue­gården in Malmö and Tynnered in Göteborg. The company has a solid presence in its areas and invests in social activities. Here, the company is working to uplift the neighbourhood and contribute to positive development in the areas by contributing everything from schools and retirement homes to new owner-occupied flats and rental apartments.
One of this year's initiatives is Destination Tynnered, a collaboration between Stena Property, Volvo Cars and the municipal real estate company Framtiden. The aim is to create a secure and attractive Tynnered that is characterised by confidence in the future and entrepreneurship, see the Responsible business section on pages 10–11.
"Another thing we're proud of within the framework of our relationship management is that during the year, thanks to our creativity, we created 621 holiday jobs for young people in our areas," reports Cecilia Fasth.
Sustainable homes
Stena Property also has high ambitions in the climate and environmental area. The goal is to reduce the climate footprint by 50 per cent by 2030, while achieving the same return. This means that during that period, Stena Property must reduce its carbon emissions from operations by at least 50 per cent. In order to succeed, intensive work is under way in all parts of the business. Important initiatives in 2021 included early identification of climate-saving measures in all new production projects, production of over one million kWh solar panels, transition to renewable district heating, investment in building Nordic Swan Ecolabelled timber buildings, and intensified focus on emissions from the supply chain. Working proactively with the supply chain is essential for a company that purchases services related to construction, administration and renovation.
Stena Property's goal is to produce at least 1,000 sustainable homes every year. This means that the company provides homes that are produced sustainably and which also make it easier for their residents to live sustainable lives. To monitor and follow up on its work, Stena Property has developed a tool for calculating the climate footprint of an entire apartment. The tool takes account of every aspect of an apartment that affects the climate, in proportion to each other, which makes it easier to prioritise and work sustainably in both operation and production.
SUSTAINABILITY PERFORMANCE
In the environmental area, Stena Property has climate issues high on its agenda and follows up on its carbon emissions from its own operations and in the value chain. The company has reduced the carbon footprint from its own operations by 53 per cent compared to the base year, 2018, through energy savings and switching to green energy. In 2021, Scope 3 emissions rose compared with the previous year, due to increased new production and more completed projects in 2021.
Stena Property works actively on dialogue with residents, holiday jobs and relationship management in order to achieve its goal of increasing security and well-being in its residential areas. The company uses an Active Bo Security Index that is measured every other year, and the results for 2021 show an improvement since the measurement in 2019.
On the employee side, Stena Property works actively on diversity and has followed up the proportion of employees with a foreign background in order for the workforce to reflect society.
People
Diversity
17%
Goal: At least 24 per cent by 2024
The proportion of employees with a foreign background must reflect society
Environment
Total carbon footprint 2021, CO2e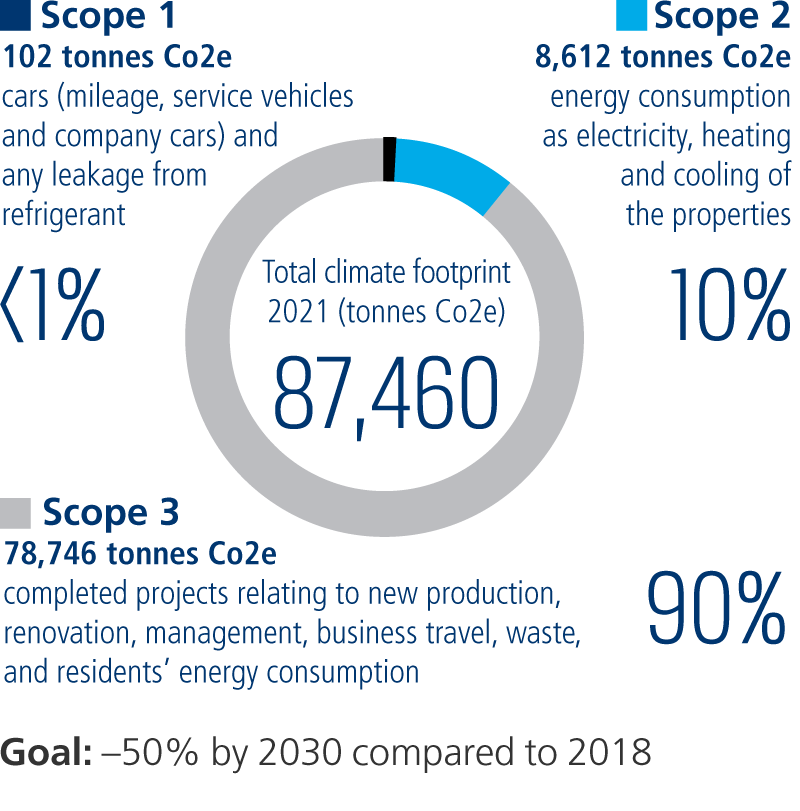 Community
Security in residential areas
78.6%
Goal: At least 82% in Aktiv Bo by 2024
The proportion of employees with a foreign background must reflect society
Owned and managed portfolio