Great efforts to enable world trade
Northern Marine Group (NMG), headquartered in Glasgow, provides technical, personnel and administrative services for vessel owners and crews in the Stena Group, and also to external customers in the marine, offshore and renewables industries. NMG's considerable multinational pool of seafarers work onboard different types of vessels, in collaboration with experienced shore-based managerial personnel. NMG's extensive shore-based infrastructure comprises a wide network of offices, training centres and strategically located marine supply facilities offering global services.
Summary of 2021
Continued travel restrictions and a challenging tanker market due to severely unbalanced supply and demand conditions affected the operations of Northern Marine Group in 2021. Meanwhile, both the shore staff and seafarers of the company worked hard to help enable world trade to continue, despite the logistical and operational challenges caused by the pandemic.
continued effects of the pandemic
The pandemic continued to have a major impact on the operations of NMG during the year, with travel restrictions and logistical challenges for the vessels' crews, as well as its effect on global supply chains, which resulted in a significant increase in the cost of freight.
Another area that was impacted was the marine supply activity, as some ports were effectively closed down and vessels re-routed. Most severely affected was the travel management and training business areas, due to continued restrictions on the free movement of people.
Increased focus on marine decarbonisation
Sustainable shipping is now the ultimate goal for the sector. All policy and regulation changes and emission control measures are moving towards the unified objective of decarbonisation. The International Maritime Organization (IMO) is playing an important role in this transformation and the EU is introducing a regional Emissions Trading System (ETS) that is seeking a reduction in greenhouse gas emissions to at least 55 per cent by 2030.
Renewable's training centre and maritime global services launched
In 2021, NMG subsidiary Clyde Training Solutions opened a training centre for the training and assessment of personnel working in the renewable sector, especially offshore wind farms. Maritime Global Services was also launched during the year as a further step in advancing the company's relationship and support to ExxonMobil. This is a business unit dedicated to providing marine quality assurance to ExxonMobil's subsidiary, SeaRiver Maritime.
"NMG provides a single-source competence solution for energy companies. We also have the infrastructure and professionals in place to capitalise on the growth in training requirements of the renewables sector, which means that we are well positioned for future growth," says Philip Fullerton, MD of NMG.
"Our ability to establish Maritime Global Services during the initial stages of the pandemic, as well as the efforts of both shore staff and seafarers to help ensure world trade in the face of the continued logistical and operational challenges caused by the pandemic, have proven the strength of our organisation and the dedication of our staff, " Philip Fullerton continues.
New contracts signed
Other important events during the year included contracts signed for the management of new vessels, including new vessel types with the capability to be propelled by methanol or LPG fuels. NMG was also contracted to crew a fleet of Liquefied Natural Gas (LNG) carriers for a new, internationally reputable client.
Meanwhile, RoPax officers were placed on a managed gas carrier vessel to learn how to operate gas-fuelled vessels. The training aims at developing seafarers for working with future fuels and assisting with the delivery of Stena E-Flexers to charterers.
NMG's future strategy includes organic growth in the vessel management activity, with larger customers and focus on additional gas and offshore assets. The company is equipped to facilitate the management of new vessel types and those that require new fuels.
Focus on sustainability
NMG takes a holistic approach to sustainability, which includes everything from logistics to customer service. Important areas are safety and optimising the fleet's performance to help customers achieve their targets for fuel consumption and emission reductions.
In 2021, NMG continued to evaluate new energy solutions, while assisting clients with modifications to vessels to improve energy efficiency and emission reduction.
"One of our greatest challenges – but also opportunities – is to assist in the transformation from a fossil dependent economy to one with a greater balance of renewable energy," Philip Fullerton says.
"We are well positioned to provide engineering solutions for the transition to clean fuels and power generation, particularly in emerging markets," he continues.
Stena Power & LNG Solutions facilitates LNG as an energy source and offers capacity to utilise future fuels, such as hydrogen or ammonia. This business unit also provides solutions to allow lower capital cost projects to be considered, to bring stable sources of power to developing regions.
"We are fully engaged in and supportive of an energy transition and we will do our utmost to position the company, and indeed our clients, to achieve their ESG goals," Philip Fullerton says.
SUSTAINABILITY PERFORMANCE
Within the environmental area, NMG has a focus on reducing its fuel consumption and succeeded in exceeding the annual target of 2 per cent during the year.
In the safety field, the company follows up on occupational accidents. There were no occupational accidents for onshore operations. Regarding occupational accidents at sea, NMG's results are somewhat better than the target and are well in line with the industry average.
The company also uses "Retention Rate" as a key ratio to monitor its ability to retain seafarers. This year too, the company exceeded its target of 90 per cent.
In 2021, NMG continued to maintain several certification standards.
Environment
Energy consumption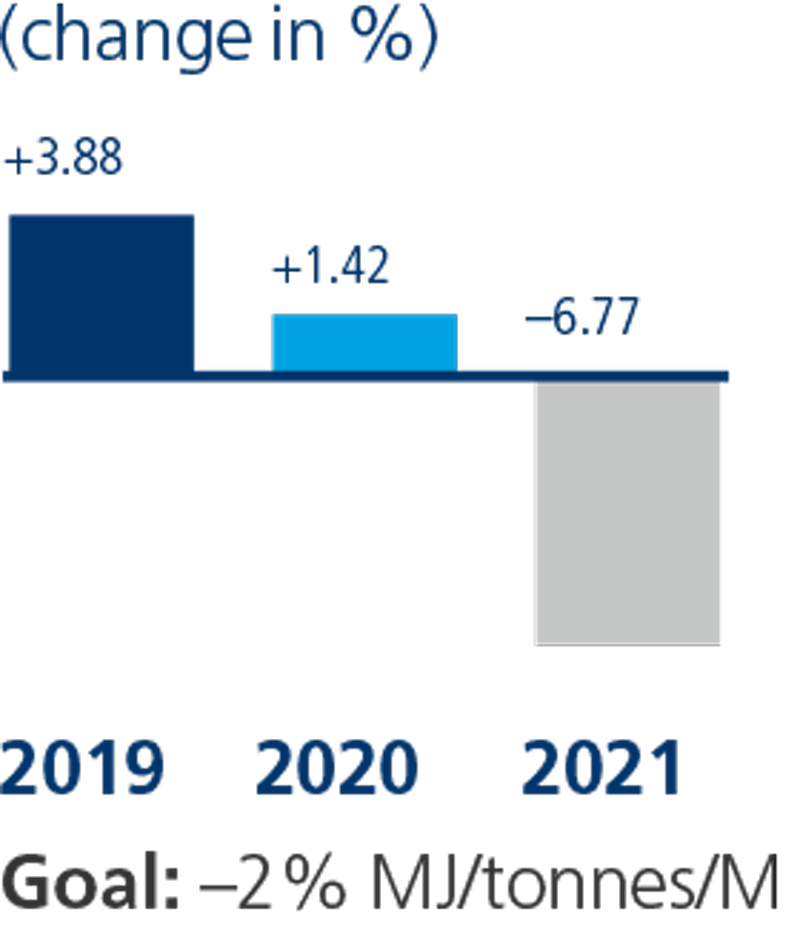 People
Retention rate
93%
Goal: >90%
The company also uses "Retention Rate" as a key ratio to monitor its ability to retain seafarers.
Safety
Occupational accidents, land-based operations
0%
Goal: 0 pcs
Workplace safety at sea (LTIF)
0.29
Goal: <0.35