Increased demand and freight prices turned a loss into a profit
With a fleet of around 75 owned, chartered and managed tankers in global traffic, Stena Bulk is one of the world's leading tanker operators. The business concept is to offer secure, innovative and cost-effective marine transport of crude oil, refined petroleum products, vegetable oils, chemicals and LNG (Liquefied Natural Gas). The strategy is to adopt a holistic perspective, from development and construction to technical operation, with the crewing and chartering of first-class tankers and LNG vessels. Customers are major international energy and chemicals companies. They also set high requirements for safety, flexibility and transport economy.
Summary of 2022
In 2022, demand and the price of shipping both oil and refined products rose to new record-high levels. The reason was the increased demand for oil after continued recovery of energy demand after the pandemic, but also longer transport distances after countries boycotted Russian oil. "After a weak start to the year, our results soared upwards, particularly in the second half of the year," comments Erik Hånell, MD, Stena Bulk.
DRAMATIC YEAR WITH SHARP PRICE FLUCTUATIONS
The past year was characterised by a dramatic change in both demand and prices for the transportation of oil and refined products. In 2021, the lowest demand for oil registered by the industry since the seventies, combined with surplus tonnage, severely affected Stena Bulk. The trend turned in early 2022, with an increase in demand, and improved dramatically in the second quarter, due to the war in Ukraine.
"As the countries in Europe began to import oil from the USA, Africa and the Persian Gulf, instead of Russia, this resulted in longer transport distances and thus reduced access to free freight capacity. This led to a dramatic price upswing for tanker transport during the year, which in itself contributed to a strong result for Stena Bulk," says Erik Hånell.
"This development has been sustained, as oil consumption has continued to increase, while the countries' commercial and strategic oil stocks have declined. In addition, the order book for new tankers is the lowest we have seen since the seventies. We have a strong brand and stand for what the major oil companies are demanding, which means that we are the first choice for important customers," he continues.
TRANSFORMATION OF THE INDUSTRY GIVES NEW OPPORTUNITIES
The most important long-term trend in the industry is the transition to more energy-efficient vessels and new fuels with lower greenhouse gas emissions.
"We've been very clear about our support for the new regulations that come into force during the year and that aim to limit carbon emissions. For the regulations to be effective, cooperation is required from all players in the industry.
"We want to be at the forefront of the transition of our own fleet by 2050. We therefore see investments in new technology and new fuels – especially those that are focused on methanol – as sensible from a commercial perspective and believe that they will strengthen our future competitiveness," says Erik Hånell.
As an example, he highlights the collaboration with Proman, the world's second-largest methanol producer. The cooperation so far has resulted in four methanol-powered tankers in operation via Stena Bulk. All vessels were delivered in 2022. Stena is co-owner of three of these.
"This is a huge leap forward in the shipping industry's transformation and I'm proud that our team can help prove the benefits of methanol as a fuel today," says Erik Hånell.
In 2022, Stena Bulk initiated collaboration with the Global Centre for Maritime Decarbonisation (GCMD) and the Oil and Gas Climate Initiative (OGC). The projects, which run for two years and in three phases, aim to demonstrate the practical feasibility of carbon capture and storage onboard.
"We hope this will bring us one step closer to making carbon storage a reality for the entire global fleet," says Erik Hånell.
40th ANNIVERSARY
The past year brought an important milestone for Stena Bulk, which celebrated its 40th anniversary, and could also celebrate a record operating result. During these four decades, the company developed from a holding of six second hand tankers, which were bought during a downturn in the industry, to its current leading position with a fleet of 75 vessels totalling more than 5 million deadweight tonnes. Stena Bulk is now working on the goal of continuing to meet the world's growing need for energy, while reducing emissions towards climate neutrality by 2050.
METHANOL AS A MARINE FUEL
There are many advantages to methanol as a marine fuel. It reduces the vessel's carbon footprint and is already available in large quantities in most ports. In addition, it is a liquid fuel, which means that it is easy to store onboard. Another advantage is that it is biodegradable, which limits environmental damage in the event of a spill. Methanol burns at low temperatures and does not release soot. In the short term, the fuel can therefore have a major impact on emissions of nitrogen oxide and other pollutants. In the slightly longer term, it can be produced as climate-neutral, synthetic fuels: bio-methanol and e-methanol. These fuels would reduce carbon emissions by up to 95 per cent, and nitrogen oxide emissions by up to 80 per cent, and furthermore eliminate emissions of sulphur oxide and particles altogether.
CARBON STORAGE – AN IMPORTANT PART OF EU CLIMATE POLICY
An important part of the EU's climate policy is to invest in carbon capture and storage (CCS). CCS captures carbon dioxide in emissions and flue gases. It is then transformed into liquid form by means of pressure and low temperature, and then transported to a storage site deep below ground. Most surveys indicate that the most advantageous way of transporting separated carbon dioxide is by ship.
SUSTAINABILITY PERFORMANCE
Environment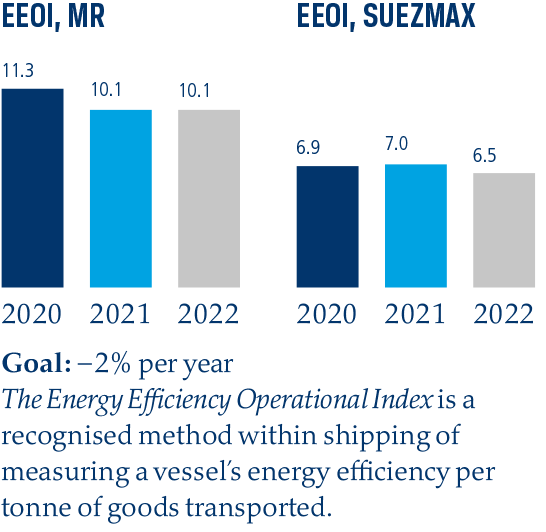 Retention rate
93%
Goal: >90%
The company uses "Retention rate" as a key ratio to monitor its ability to retain employees.